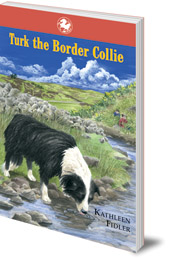 Turk the Border Collie
Kathleen Fidler; Illustrated by Mary Dinsdale
You can buy this book now, online or in your favourite bookshop.
After the death of his master, Turk is sent to a faraway farm to finish his sheep-dog training. But his longing for 'Old David' and familiar fields is so powerful that he runs away and tries to find his way home again.

He encounters many adventures and varied companions on the way until at last, barely alive, he arrives home . . .
About Kathleen Fidler
Kathleen Fidler was the author of over eighty books for children, many of which were broadcast on BBC Radio Children's Hour and Schools programmes. She had a long-standing affection for Scotland. The Fidler Award stands as a memorial to her deep interest in children and writers. She died in 1980.
Read more in this series
If you liked Turk the Border Collie you might like another book in the Young Kelpies series.
About Turk the Border Collie
This book costs £4.99.
It is a paperback with 160 pages.
If you're searching for it online, it might be useful to have the book's unique number, which is 9780863154232.
Read an exclusive first chapter and win a free copy of the book of the month
Time on your hands? Discover the fun stuff - puzzles, character exclusives, wallpaper, postcards and more
Email us with a review of the latest Kelpie you've read, and see it on this website. Email kelpies@discoverkelpies.co.uk