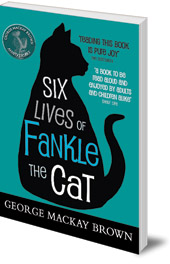 Six Lives of Fankle the Cat
George Mackay Brown
You can buy this book now, online or in your favourite bookshop.
When the shopkeeper gives Jenny a skinny, black kitten she has no idea who she has adopted. Fankle is no ordinary cat. The fiercely clever feline has lived six lives so far: lives of adventure, danger, fortune and poverty. He's stared down angry pirates, started a blood feud, won a war, advised an empress and leapt onto the moon.

Fankle tells Jenny tales of his former lives -- with the king of pirates, in ancient Egypt and even with the Empress of China. So what is he doing living in a crofter's cottage in Orkney?

This classic novel by George Mackay Brown is a rich and rewarding read for adults and children alike.
About George Mackay Brown
George Mackay Brown (1921-96) was a poet, novelist and dramatist, who spent his life living in and documenting the Orkney Isles. He found inspiration from the culture, land and oral tradition of the islands. He published almost 50 works including the novel Greenvoe and poetry collection The Storm. Six Lives of Fankle the Cat is one of three books he wrote for children.
Read more in this series
If you liked Six Lives of Fankle the Cat you might like another book in the Kelpies Classics series.
About Six Lives of Fankle the Cat
This book costs £5.99.
It is a paperback with 160 pages.
If you're searching for it online, it might be useful to have the book's unique number, which is 9780863159824.
Read an exclusive first chapter and win a free copy of the book of the month
Time on your hands? Discover the fun stuff - puzzles, character exclusives, wallpaper, postcards and more
Email us with a review of the latest Kelpie you've read, and see it on this website. Email kelpies@discoverkelpies.co.uk