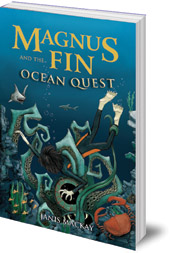 Magnus Fin and the Ocean Quest
Janis Mackay
You can buy this book now, online or in your favourite bookshop.
There has always been something unusual about Magnus Fin, a school misfit. On his eleventh birthday Magnus throws a message in a bottle out to sea, wishing for a best friend and to be more brave -- and he gets a lot more than he bargained for. Magnus discovers that he is half selkie -- part seal, part human -- and his selkie family urgently need his help.

Can Magnus save his new-found family from the evil force threatening all the ocean's creatures? And will he find the friend he has always dreamed of?

The winner of the Kelpies Prize 2009.
About Janis Mackay
Janis Mackay was born and grew up in Edinburgh, but moved to London to study journalism. She has an MA in Creative Writing and has held writer-in-residence posts in both Caithness and Sutherland. She currently lives in Edinburgh, where she teaches creative writing and works as a writer and storyteller.
www.janismackay.com
Read more in this series
If you liked Magnus Fin and the Ocean Quest you might like another book in the Kelpies Prize Winners range or Magnus Fin series.
About Magnus Fin and the Ocean Quest
This book costs £5.99.
It is a paperback with 200 pages.
If you're searching for it online, it might be useful to have the book's unique number, which is 9780863157028.
Read an exclusive first chapter and win a free copy of the book of the month
Time on your hands? Discover the fun stuff - puzzles, character exclusives, wallpaper, postcards and more
Email us with a review of the latest Kelpie you've read, and see it on this website. Email kelpies@discoverkelpies.co.uk