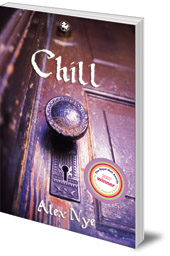 Chill
Alex Nye
Out of print
Winner of the Royal Mail Awards for Scottish Children's Books 2007

"He stared up at the dark mass of the house. Then he thought he saw movement in the library window to the right of the drawing room. A shadow moving, backwards and forwards ... then it was gone."

Samuel is trapped by huge snow drifts in an old, remote house. And that's not the only thing causing a cold shiver to creep down his spine. He feels like the ghostly figure in the locked library has a message . . . but who is it for?

Fiona lives in the big house, but will that help the two of them to break the curse on her family? As the ice sets in, they uncover a centuries'-old tale of betrayal and revenge.

Set on bleak Sheriffmuir near Stirling, this is a spooky tale of the past coming back to haunt the present.
About Alex Nye
Alex Nye was born in Leicester, England, and has been writing for many years. She lives in Dunblane, Scotland, with her two children. Chill is her first novel.
www.alexnye.com
Read more in this series
If you liked Chill you might like another book in the Chill series.
About Chill
This book costs £5.99.
It is a paperback with 176 pages.
If you're searching for it online, it might be useful to have the book's unique number, which is 9780863155468.
Read an exclusive first chapter and win a free copy of the book of the month
Time on your hands? Discover the fun stuff - puzzles, character exclusives, wallpaper, postcards and more
Email us with a review of the latest Kelpie you've read, and see it on this website. Email kelpies@discoverkelpies.co.uk